Parades
Monday, May 29
Ridgefield Memorial Day Parade 
The parade begins at 11:30 from Jesse Lee Church marching down Main Street and ending in Ballard Park with a closing ceremony.
City of Danbury Memorial Day Parade
The parade starts at 9:30 am
Wilton Memorial Day Parade
The parade starts at 10:00 am
New Canaan Memorial Day Parade!  — New Canaan Pack 7
Parade 9 am- 12pm
What's red, white, and blue and oh-so yummy? This Star-Spangled S'mores Tray! The perfect finale to your Memorial Day, Fourth of July, or Labor Day celebration that everyone will love!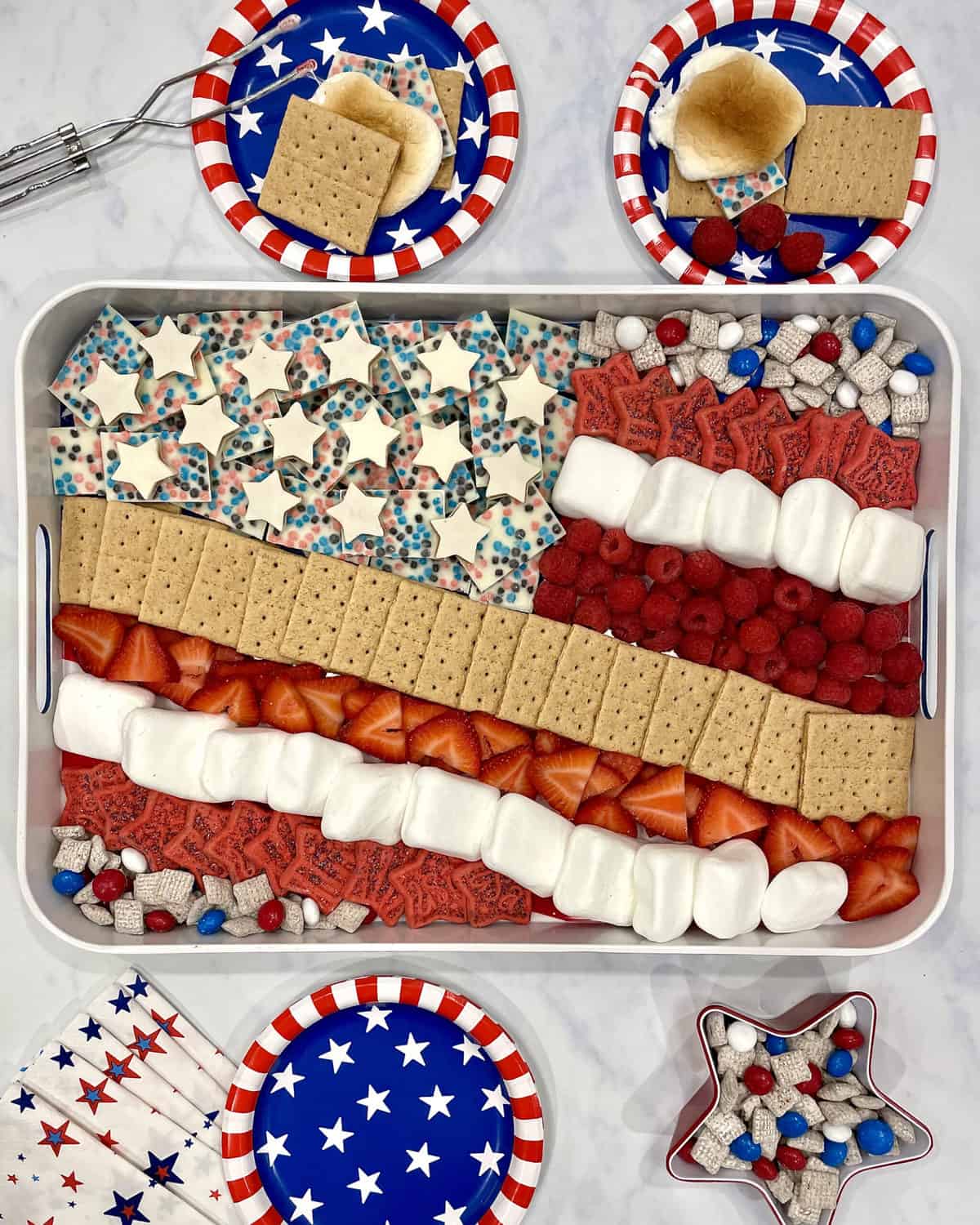 Those Summer Niiiiiights
The Star-Spangled S'mores Tray is such a festive, fun way to serve this patriotic twist on a classic treat. The sweet details make it such a neat treat! I cannot wait to share it with our loved ones this weekend. Get those marshmallow roasters ready, y'all! We're about to get toasty!
S'mores are one of our favorite 4th of July desserts! Melted chocolate, crunch graham cracker and those perfectly roasted marshmallows.
There's just something magical about gathering around the fire pit, roasting marshmallows, laughing and eating. And making those memories with my kids brings me so much joy.
What Do I Need to Make Fourth of July S'mores?
Hershey's Red, White & Blue Cookies 'n' Creme Candy Bars
Reese's Thins White Creme Peanut Butter Cups
Red star shaped sugar cookies
S'mores marshmallows
Raspberries
Graham crackers
Strawberries
Peanut Butter & Chocolate Muddy Buddies Snack Mix
M&M's Red, White and Blue Peanut Butter Candies
Flag tray or wooden flag tray
star bowl
s'mores skewers
paper plates
paper napkins
Mini star cookie cutter
How to Make a Star-Spangled S'mores Tray
First wash the raspberries and strawberries, and slice the strawberries.
Make a snack mix by mixing Peanut Butter & Chocolate Muddy Buddies Snack Mix with M&M's Red, White and Blue Patriotic Peanut Butter Candies.
On the tray, first place a diagonal row of the M&M Muddy Buddy Snack Mix in the bottom-left corner of the tray, followed by diagonal rows of star cookies, s'mores marshmallows, strawberry slices and graham crackers.
Break the Hershey's Patriotic Candy Bar into fourths and fill the top left corner with the pieces.
Using a mini star cookie cutter, cut the Reese's Thins White Creme Peanut Butter Cups into mini stars and place them on top of the Hershey's Candy Bar pieces.
Finish the red-and-white stripes with a row of raspberries, another row of marshmallows, red star cookies, and M&M Muddy Buddies snack mix.
Finally, serve with an additional bowl of M&M Muddy Buddy Snack Mix, s'mores skewers and festive plates and napkins.
Roast marshmallows and enjoy!
Besides ice cream, there are few foods that scream "summer" more than hot dogs, right? So on this summer kick-off weekend, we wanted to share this adorable hot dog bar from one of our favorite food bloggers, Jessica Merchant of How Sweet Eats. Mom to Max, 4 and Emilia, 18 months, she's also the author of two gorgeous cookbooks, Seriously Delish (2014) and Pretty Dish (2018), and is hard at work on her next book, Everyday Dinners (out in 2021).
Jessica is known for her comfort food with a twist (what she calls "trashed up"), but for Memorial Day, she's sticking to the basics. "All the salads with fruit—I love a spring greens salad with berries and goat cheese!—and tons of vegetables on the grill. We get fantastic sweet corn and tomatoes here in PA come July. They are unbeatable! I think almost every dinner I make in mid-late summer consists of those."
We'll be making this hot dog bar that's, fun, easy and guaranteed to please adults and kids. Jessica includes all the classic—like a Chicago Dog and Carmelized Onion and Cheese Dog—as well as unexpected ones. We've definitely never had a Hawaiian Dog or Mexican Street Food Dog, but we're pretty sure they're going to be fast favorites. Jessica says her kids love making their own creations as much as she did. "I find that when my kids can help or choose their own toppings, they enjoy their food more and are more inclined to try new foods. It sparks creativity!"
Cheers to Summer! We love a good Sangria in the warmer weather, and depending on the setting or food pairing, have served it in white, red or rose varieties. This Sparkling Sweet Tea Sangria from The BakerMama is not only refreshing, but decorated with a patriotic, festive kabob—making it perfect for Memorial Day, the 4th of July or Labor Day.