Meet A Mom- Jacqueline Lisk, writer, editor and founder of JR Lisk, Inc., a content creation and strategy agency.
    Where are you from originally and how long have you lived in Ridgefield?
I grew up in Carmel, New York. I have lived in Ridgefield for five years. Honestly, I never thought I would end up in CT. My parents are from the Bronx. (I used to say I was from the Bronx, too, but since we moved when I was five months old, I now realize I can not claim that.) 
After college in Boston (BU), I lived in Manhattan for seven years. My husband, Matt, and I moved to Stamford when we learned we were pregnant, then to Ridgefield two years later.  I pinch myself every time I drive down Main Street. This town is magical. 
Our families gave us a lot of grief, at first, for leaving New York. But now my parents live in Ridgefield, too, and my brother and his wife and son live in Redding, so they can't tease us anymore. We are working on recruiting more family members.  
   

How many children do you have? What are their names and ages? 
We have a daughter, Juliette, age 7, and a son, Colin, age 5. I have got to give a shout-out to my sister, Breanne. She has been our nanny since Jules was a baby. She is a huge part of our lives and our secret to sanity (I use the word "sanity" loosely).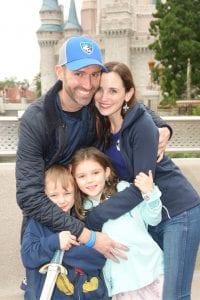 What is one thing people would be surprised to know about you?
Hopefully this is surprising: I have had A LOT of concussions.    
    Tell us about your work? 
So, I do two, related things. I am a freelance writer and editor, and I run a content creation and strategy agency. I freelance for Boston Globe Media (sponsored content and special content projects), Inc. magazine and Fast Company (branded content and business profiles). I also ghostwrite, primarily for executives writing business books or opinion pieces for publications like Forbes, Financial Times, and TechCrunch.
My content creation and strategy business, creatively named JR Lisk, Inc., helps companies nail their marketing communication (websites, ad copy, marketing collateral, etc.) and create content strategies (which basically means, figure out how to use content like blogs, infographics, videos and e-books to build relationships and generate leads). I don't have employees, but I do have a network of writers and designers I bring on to support large projects. 
    Who can benefit from the work you do and how do you select the topics you pursue to bring to life in text?
Really any company that wants to use content to attract customers can benefit from a copywriter or content marketing partner. I work with businesses of all sizes, from start-ups to big brands, across nearly every vertical, although most of my clients are in marketing, UX consulting, ad tech, business, and health. 
In terms of what I write about, that is usually up to my editors. For example, FastCo will tell me to write a story about Wendy's marketing strategy, or Inc. will assign me a series of stories to be sponsored by Intel or AT&T. The last two years, I have written a number of special sections for Boston Globe Media where I have had more of a say in what we cover. This is cheesy, but I try hard to find opportunities to tell stories that could make a difference in someone's life, i.e., shining a light on a non-profit or urging people to get a mammogram. It is the best part of my job.     
    What's been the best piece of advice you've received from another mother? 
I am going to weave together advice from moms I know personally, and things I have learned from books and podcasts.  
 

Go easy on yourself.

Juggling work, children and life is hard. You are not going to do it perfectly. Getting caught in a shame spiral, i.e., yelling, then getting mad at yourself for yelling… is a waste of energy. Try to be better, of course, but skip the step where you beat yourself up. 


Being a good mom and having your own interests, passions and dreams are not mutually exclusive. 
"Would it kill you to put on some lipstick?"

Wise words I have heard from at least three women in my life.  

Trust your gut but ask your friends.

We usually know what is best for our children, and that sometimes means disagreeing with doctors, teachers or "experts." But emotion clouds rational thinking. Share what you are going through. Your friends will help you recognize when you are spiraling. (Shout-out to my besties who regularly call me out on my irrational freakouts.)

Don't make assumptions about what your kid can or can't do.

My son, Colin, was born with a rare limb difference. (I wrote about it for

a parenting mag

a few years ago.) If I quietly doubt he can do something because he is missing two fingers, he feels that doubt, even if I don't say a word. If I believe in him, he feels that, too. 

Practice gratitude.

Literally stop what you are doing and think about all the things you are grateful for multiple times a day.  

How has this community supported your career?
Lots of ways. When I need to find sources for a project, I use local people as often as possible. My highlight of 2020 was writing about an amazing local family, the Currans, for a project about Everyday Heroes. I have also worked with local business owners/executives on content marketing projects. It is always fun to do business at Tusk & Cup.
 The biggest thing, though, has been the friendships. Ridgefield attracts the best people. I have met so many kind, supportive and inspiring women. I am particularly indebted to my "group text crew." We met through our kids and have since become dear friends who live for playdates without our children. We support each other with words, and with actions, and I am deeply grateful.    
    How has 2020 shaped your work?
BLM inspired me to make a greater effort to find diverse sources when I am writing, and that has benefited my work, and me, personally, because I am learning from these conversations. 
The uncertainty and fear of Covid caused me to 1.) acknowledge how lucky I am to have a job I can do safely at home and 2.) contemplate what I want from my work and life. I am still figuring it out, but I hope to take on more projects that tie to a social cause so I can use my communication skills to spread messages I care about. 
Anything else we should know about you? 
I have a really special family. I am one of four children, and all three of my siblings, and their spouses, are freakishly smart, talented, funny and good-looking (in my humble opinion). Our parents are role models who continue to inspire us with their work ethic, community service and life perspective. My husband is from an amazing family, too, and also one of four. His parents epitomize what it means to put family first, and his brothers and their wives are the best around. Fun fact: Matt's brother Mike married my best friend since childhood, Kat, so that is convenient.
It is rare to have such a large network of family and friends. I am so grateful that our children's lives are shaped by these amazing people, and by this idyllic town.