Where are you from originally and how long have you lived in Ridgefield? 
I was born and raised in Northern California. I moved to Brookfield, Connecticut in 2008 to be with my husband and start my career in Physical Therapy. I consider Ridgefield my second home! Since 2017, I have spent most days of the week at the studio, and out and about the community. 
How many children do you have? What are their names and ages? 
Just a dog mom to Cali for now! We rescued her from ROAR 10 years ago. 
What is one thing people would be surprised to know about you? 
Prior to opening Pure Barre Ridgefield I practiced as a Physical Therapist for 8 years. A career I never thought I would change from. 
Tell us about your work?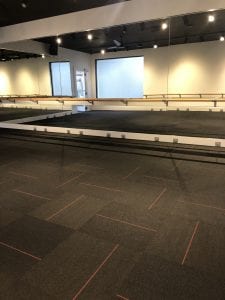 My business partner, Katie Moscovitch, and I opened up Pure Barre Ridgefield in May of 2017. Opening a business was way out of my wheelhouse as a Physical Therapist, but I had a lot of guidance and support to help along the way. 
Our work at Pure Barre Ridgefield is truly a team effort. My team is the backbone of the business. From the teachers to the front desk staff – they are the foundation to the community. My work is rewarding and constantly challenging! I get to use my physical therapy background to guide clients with modifications as well as educate my team. Having the opportunity to watch clients make progress, reach their goals, and celebrate each other is incredibly rewarding. As well as talking to a client after they took their first class and loved it. Being a part of someone's fitness journey is very special. 
Who can benefit from the work you do and/or what do you hope your clients gain from their time with you? 
We like to say that Pure Barre can be done at all levels of fitness. Modifications can be made throughout class and the teacher is there to guide you through them. Pure Barre is a total body barre workout focused on low impact yet high intensity movements. The primary benefits are gains in strength, flexibility, and agility. As well as, cardiovascular health, coordination and balance. We offer 3 formats, Classic, Empower, and Reform. "Classic" is the original Pure Barre workout focused on strength/toning, flexibility, and agility. "Empower" is our cardio barre class. A fusion of barre and interval training. And, "Reform" is inspired by resistance training, challenging your strength and coordination with use of resistance bands and sliders. And, while Pure Barre is an incredible workout, it also provides another two layers to well-being as well. Being a group fitness workout, clients have an opportunity to connect with others in a positive way- celebrating goal milestones, and all around supporting and cheering each other on! The second layer is a mental escape from the outside world. All classes at Pure Barre are musically driven and skillfully guided by the teacher. Your mind has no option but to focus on the present moment, and to put any stresses and to-do lists to the side for 50 minutes. It's a beautiful thing! 
How has this community been instrumental in getting you to where you are now? 
My business has become a second home to me, and the community and team are my second family. The studio brings a sense of comfort and familiarity that a home and a strong community provide. I'd like to think that others get just as excited as I do to see each other every day and to encourage each other wherever they are at in their fitness goals. It's a place to reconnect with people. 
In March, when we had to close our physical doors and work on re-structuring what our business looked like, it was the community that kept myself and the team going. Having our physical doors closed from March until June of this year was incredibly challenging. We quickly pivoted and provided virtual classes which are still going strong even after we re-opened our doors. It was our community that kept us going financially, mentally, and most importantly emotionally during this challenging time. Our community gave us purpose.